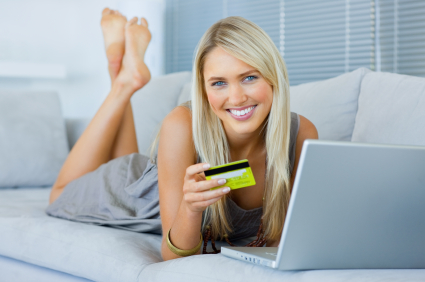 Secured credit cards are now available from many sources, and in a variety of application fees, annual fees, and interest rates. In every case, the cardholder is required to open a savings account which will become security for the card.
The benefit of carrying a secured credit card is that use is reported to the major credit bureaus. Thus, by maintaining a balance of 30% or less of your available credit, and by paying on time every month, your credit scores will begin to climb.
In most cases, card holders will be eligible to transfer to a non-secured card after a period of responsible use and a zero balance on their account. At that time, the savings account will be released, along with any interest earned.
Some cards pay interest on this account, and some do not. Most will allow the consumer to open the account with a small amount and increase it as needed. The credit limit is always equal to the amount in savings.
As with all credit cards, fees for over limit or late payments vary from card to card, as do charges for ATM withdrawals, extra cards, etc. Following are just a few of the secured credit cards available through application online.
First Option Visa® offers a card with a $59 annual fee and an application fee of $99.95. The advertised interest rate is 19.5%. This card offers a 2% Annual Percentage Yield on your savings, and you can begin with a deposit as small as $300 and can go as high as $5,000.
The Applied Bank® Secured Visa® Credit Card requires a deposit of  $200 to $500 in a FDIC insured Applied Bank Deposit Account, which earns no interest. The card itself is protected by zero percent fraud liability.
The annual fee is $50 and the interest rate is 12.99% – a rate that does not change in the event of a late payment. After the first year, a monthly fee of $9.95 will apply.
The Public Savings Bank Secured Visa® card offers a variable interest rate which is currently 11.24% and caps at 18%. It carries a set up fee of $75, and a fee of $25 each time a cardholder increases or decreases his or her credit limit. There is no annual fee.
Cardholders may choose an initial credit limit from $300 to $2,000. This may later be increased to  maximum of $5,000. No interest is paid on the savings account which secures this card.
Capital One offers a card with a credit limit of $200 to $3,000, a variable interest rate of 19.8%, and an annual fee of $24. Security deposits do not earn interest.
The Citi® Secured Mastercard requires a deposit from $200 to $5,000 into a CD (Certificate of Deposit) which earns a competitive annual interest rate, currently at 4%. The annual fee is $29 and the variable interest rate is currently at 18.24%.
Wells Fargo® offers a secured card with a $300 to $10,000 credit line for an annual fee of $18 and a variable interest rate which is now at 17.49%. Your security deposit earns no interest.
Author: Marte
CreditQuick.com your credit card and credit report resource.