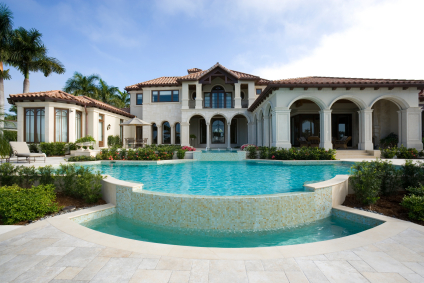 With foreclosures dotting the landscape across much of America, it can be tempting for consumers with a steady income and good credit scores to purchase "too much house."
While it might be fun to live in a house that "used to" cost half a million dollars, because you can now buy it for the $200,000 price tag that fits your income, consumers should first consider the other costs and obligations associated with owning that home.
First, the size of the home and the amenities it offers probably mean that heat and lights will cost proportionately more. Maintenance is another issue. The more gadgets and toys, the more things there are to break. The more square footage, the more area that will eventually need to be re-painted or re-papered.
Those are just the added costs of living there. Unless you're wealthy enough to keep a full staff, there's work involved too, and that can take away from time you can spend with family and friends – enjoying life.
There's cleaning – more space means more carpets to vacuum, more surfaces to dust and scrub, more windows to wash. Outside, the larger the yard, the more landscaping tasks to do. And if your new "mansion" includes a pool and/or a hot tub – someone will have to clean them.
More work or more expense – one way or the other, you'll pay for the luxury.
What about the taxes? Depending upon where you're buying, they may have been adjusted for the down market. But the economy will improve, and those taxes will rise. Will they be a burden if they double?
Instead of buying to the maximum payment you can afford, why not buy the house that fits you and your family?
Invest in solid construction with the amenities you really want. Choose energy efficiency over flash. Think about the number and size of rooms that you'll actually use and pick a house that will offer comfortable living instead of constant work.
And those dollars you don't have to spend on payments? Put them in the bank so you'll have a cushion against the uncertainties of the economy.
Remember that TV show that renovated homes for people? Here in our community they tore down a "basement house" and built a huge new home for a single man who was raising his niece and nephew. Everyone was thrilled at his good fortune, but the end result was not so wonderful.
After 2 or 3 years he couldn't keep up. He tried, but his income wasn't high enough to deal with the day-to-day costs of living in a huge home, nor with the maintenance, or the taxes. And he couldn't afford help with cleaning. The last I heard, the house was on the market.
Author: Mike Clover
CreditQuick.com